auction1.html v2
| | | |
| --- | --- | --- |
| | | |
| | New Xenaland | |
| | The New Zealand Xena / Hercules Auction | |
This is an update of an account I posted on mailing lists shortly after the first two auction days (the 'props' auction). I've left it as written, with a few additions but a minimum of corrections made in the light of later observation.
550 Rosebank Road
Now that Pacific Renaissance are shutting up shop in New Zealand, they're auctioning off everything. I went along on Thursday to view the items, and again on Friday and Saturday to attend the auction. Costumes will be auctioned separately in a couple of weeks time.
Here's some impressions, from memory; I've undoubtedly forgotten or not noticed 90% of the contents of this huge complex. This was written on viewing day (with some factual corrections made since).
The auction was being held at PacRen's main premises at 550 Rosebank Road. There was no sign, and there never ever was, that this large complex was the head office for the biggest television production in New Zealand. The only signs on the front of the building for the last year were one that said 'Reception' and one that said 'Carlton Party Hire'. PacRen always liked to keep a low profile!
The entrance to 550 Rosebank Road.
The sign says "Carlton Party Hire"
The main offices. The sign just says "Reception"
The main studios are behind.
For most local fans (including me) this was the first chance to look through the premises, a huge conglomeration of old factory buildings in a roughly square block, divided into 'Studios' and 'Propstores' (the auction catalogue conveniently included a map, there were no signs that I noticed). To give some idea of the size, the 'For Lease' signs out front claimed 170,000 square feet of building and 8.2 acres of land. There were four studios in the complex, the rest of the 'factory' space being given over to prop stores and the wardrobe department. At the front of the complex were offices and some of the post-production facilities, though I believe they had more post-production elsewhere in Auckland, and some of the post-production and special effects were carried out at RenPics and associated firms in Los Angeles.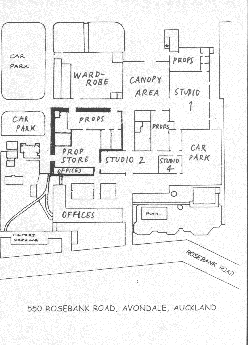 Rosebank Road - click map for more detail
(Derived from map in auction catalogue)
This was only the largest of Pacific Renaissance's premises. They also had a large prop store in Henderson, four miles away to the west. They had a warehouse building with more indoor sets behind a gas station off Dominion Road, about five miles to the east nearer central Auckland, identified only by a sign advertising a small manufacturer of non-stick frypan coatings. There were also reputedly one or two other premises in Auckland. Plus of course their outdoor sets, first at Sturges Road in the hills west of Henderson and later at 'Lion Park', on the site of an old safari park. Lion Park covered 100 acres, by my rough calculation, and had six 'permanent' sets on it which were adapted as required to suit the episodes.
Viewing Day - 3rd May 2001

The front entrance to Studio Two
At first sight, much of Rosebank Road appeared to have been left exactly as it was when in use. The auctioneers, who patently wouldn't know Ares' Sword from the Dagger of Helios, had simply divided the contents of the prop stores up into 'Lots', generally just by allocating a lot number to each six or ten feet of shelf space.
The weapons and other props had apparently been shifted in from the Henderson prop store. As originally stored in Henderson, they apparently were kept carefully labelled in racks (see Bret Rudnick's interview with Roger Murray in Whoosh 54). The moving men appeared to have just dumped swords, spears and shields more or less at random into big crates, and Turners just allotted a lot number to each crate. Some lots appeared to have retained a semblance of order, but many had not.
The swords at the Henderson prop store
(Thanks Bret Rudnick and Whoosh for the pic)
At the auction - in rather more disorder
There was no production equipment on auction - no lights, cameras or sound equipment. I presume this was all either leased or had been sold elsewhere.
Someone had the nice idea of having two Roman soldiers in full uniform on duty as assistants or security guards. They looked very much in keeping guarding the gates. When it eventually dawned on me that they looked familiar, I asked them if I'd ever seen them on the show, and after an amused glance at each other they admitted that, well, maybe they had been in a couple of episodes. In fact I think I saw one of them just the previous last Tuesday, trying to kill Xena and getting a spear from Gabs, in Ides of March. My thought processes may be slow and convoluted, but they get there eventually. [My thought processes eventually extended to interviewing them - see the interview on this site].
Other than that, there were no signs of the presence of any humans connected with the show.
The place is huge, and very confusing at first sight. Big rooms connected through doorways or corridors into other big rooms, all well-filled (though not overcrowded) with props of all kinds. How many individual items there were, probably nobody knows. There are 2100 lots, but many of them consisted of anything up to a hundred items - mugs, swords, ornaments, you name it. Almost every bit of furniture, scenery, weaponry, or machinery that you've seen on Xena, Hercules, Jack or Cleo 2525 was there.
The missing exceptions were the good metal 'close-up' swords from Xena and Herc. The only metal swords were a couple of dozen rather nice but very light, thin ones in scabbards, probably bought-in replicas, and almost certainly used only on 'Jack' (unfortunately). Three metal swords from Xena, a metal chakram and a pair of gauntlets were being auctioned as special items for the Starship Hospital. One of them was Ares' sword, the other two I couldn't identify (but not Xena's or Callisto's, or Amazons, anyway.) I imagine this was a nice gesture by RenPics to their New Zealand fans, since those swords would fetch far more in the US.
The weapons were either stored in wooden racks, or shelved or boxed in glorious confusion - a box would contain a mixture of shields, spears and swords; my guess is, just piled in there by the moving men transporting them from the prop store in Henderson. The swords were all foam or plastic, to various standards of workmanship and in various stages of repair. These were prop swords, for use on set, and therefore made as well as they need to be - which is to say, some were nicely moulded, others were very rough. Most of them showed signs of wear - paint rubbed off, chipping here and there, which is to be expected in a 'working' weapon.
| | |
| --- | --- |
| | |
| Boxes and boxes of swords , spears and shields | That boxful, believe it or not, is one auction 'lot' |
The spears were mostly wooden shafted (the wood was real, not foam!). (Next day, the auctioneer's assistant at one stage was moved to remark in surprise "these are _real_ candles, they work!"). The shields were in moulded plastic or fibreglass, and quite heavy. And there was a profusion of battleaxes, hatchets, and rough tomahawks with foam heads, amongst which I found the only working steel weapon there - a machete marked 'Made in Brazil'.
But to return to the start... the centre room on entering was called "Studio 2". A very wide, tall room, shallow only by comparison with its great width and the other big spaces in the complex. We'll return to Studio 2 in a moment.
To its right was Studio 4, a smaller room (again, smaller only by comparison with Studio 2), in which were the low-numbered auction items - obviously those which Turners thought would fetch the best prices (presumably judging from their viewpoint as general non-fan auctioneers). Some quite nice antique-style furniture, pottery, glassware, metalware, antiques and so on, probably most of it from 'Jack' and therefore not of much interest to me. And the 'Jack' metal swords previously mentioned.
Studio 2 contained some of the larger, more saleable props - lights from Cleo 2525, oil paintings, some of the more distinguished foam statuary and animals, timber pirate chests, a roulette wheel and table - presumably the larger items which Turners thought would fetch the next best price. Plus some furniture overflowing from Studio 4.
| | |
| --- | --- |
| | |
| Some of the wide assortment... | ... of furniture and props in Studio Two |
To its left was another large room labelled 'Propstore' on the rough plan issued with the catalogue (one of several areas so labelled). Along the front of this room is a two-storey bank of offices, the upper ones reached by a balcony, on which were mounted several of the fancier shield-and-swords pieces from the series. This appeared to be the only decoration in the whole complex; PacRen obviously were too busy producing episodes to bother about potted plants, fancy titles, signwriters or corporate gimmickry. Two of the offices had names on the doors, written in felt pen on ordinary paper and taped neatly to the door; one said "AVID editing No 1" below the name. Most of the other signs around the complex obviously related to its previous use as some sort of pharmaceutical factory; nobody had ever bothered to remove them.
| | |
| --- | --- |
| | |
| The main propstore alongside Studio Two | Part of the production offices above the balcony at right |
This 'Propstore' was the best-lit room in the place, and contained most of the lighter, more decorative items - a lot of props from Jack, including swords and pistols, a few fancy perspex props from Cleo, busts and 'treasure' from Xena and Hercules (and a number of Kronos Stones of identical shape but varying material); candlesticks, pottery, incense coils, old farm tools, tavern tankards made from bamboo with handles wrapped with black electrician's tape; skulls and skeletons. All carefully grouped on shelves, I imagine someone must have had a master list. On the far side of the room were free-standing candelabra, produce and market carts complete with fruit, banqueting accessories, braziers and the like.
Behind this room was a corridor which contained, on the left of the door, a couple of racks of very long weapons - pikes etc; and on the other side, three racks of tall Roman and other banners. Beyond this, the corridor was flanked with some gorgeous carpets rolled up, and at the end woven cane baskets of all sorts. Keeping on round to the right, backing onto "Studio 2", was a roomful of fabric of all sorts - rolls and rolls of it; and next door to it, the rope store, a whole roomful of ropes of all sizes, and smelling pleasantly of hemp.
| | |
| --- | --- |
| | |
| Banners of all shapes and sizes | A huge collection of carpets and rugs |
Opposite these, we came out into the main entrance driveway from the side of the complex into the middle, with rustic wooden furniture along both sides; straight ahead across this was the Wardrobe Department, not open for business yet. Turning right again, the driveway led into the 'Canopy Area'. With a high roof, but rather dark and gloomy, this was presumably an area of open yard in the midst of buildings which had been roofed over. On the near side of this were pieces of giants, big pots, statues. On the far side were carts and farm equipment of all kinds, more baskets, and large ingenious pieces of machinery probably made for Jack. And in a central passage running from the back of Studio Two was a red vehicle, doubtless for Cleo 2525, which had been made by taking a bare car bodyshell of some sort of Japanese hatchback I think (it was genuine, I could see the spot welds), replacing the rear window and trunk lid with a curved plastic 'windshield', and covering the original windshield and bonnet (hood) area with a curved plastic sheet to form a high tail. So the front became the back.
Out in the open at the back of this 'Canopy Area' were a few piles of assorted materials and a well-made twelve-foot-long wooden scale model of Rob's Folly, in light-brown wood.
And at the far side of the 'Canopy area', at the right rear of the big complex, I came on 'Studio One' (which I found could also be reached down a corridor from the right-hand end of Studio Two). None of these areas seemed to have name signs by the way; obviously the people who work there knew their way around. This was a truly huge room, divided by a row of columns (steel and structural, not artificial and decorative) across the middle. All the lighting was artificial; huge strips of felt-like material draped down the walls and blacked out any high skylight windows there may have been.

Studio One
The front, better-lit half of the Studio 1 was full of large furniture props and Cleo stuff; the rear half was full of the weapons I mentioned earlier. Racks and shelves and big boxes of them. Plus a few large boxes of Cleo hand weapons. Also some tall metal candlestick holders and flare holders; hanging bodies and skeletons; and quite a lot of terracotta and similar pottery. I didn't notice any terracotta armies, though, or stone rabbits; I expect they were there somewhere. I did notice that the weapons areas had a rather musty smell, probably mostly from the amount of wood and leather around, and possibly the moulding resin. Or maybe it was sweat.
The front half of this area was occupied equally by large Herc/Xena furniture and Cleo stuff. The Herc/Xena items were things like beds, thrones of all types, one that was either from Anthony & Cleopatra, or Nebula's palace in Sumeria (or maybe both); Ares' throne; 11 ornate high-backed Gothic chairs, and so on. And two supermarket trolleys containing huge foot-thick chunks of raw greenish glass which turned out to be real solid glass. And a ships' wheel (from Lost Mariner and other eps) which really worked and really did operate the steering ropes, which in turn simply ran round a hidden pulley in the base of the pedestal. Clever!

Furniture of all sorts in the front of Studio One
The Cleo area contains a bewildering array of props - I'd never noticed onscreen that they had five different designs of bar stools, all of them approximately equally uncomfortable in various ways. The only comfortable ones felt so unstable I'm surprised anyone could sit on them and act unconcerned. PacRen's prop designers should definitely not consider furniture designing as a future career. Plus dentists chairs, and all manner of weird constructions made from disposable plastic packaging and corrugated plastic tubing, all painted shades of silver and looking quite convincingly solid and metallic. (The painting was a work of art, by the way - not just one colour, which would look phony, but different silvery tints on different parts of the same construction, which made it look as if it had been fabricated from different metals.) And, a quite genuine obsolete tall square glass-fronted tape drive unit with two 8" tape reels and a nice array of switches, obviously surplus from somewhere, and completely untouched by propmaker's hand - it didn't need it, it looked the part as it stood.
In the intervening corridor between Studio 2 and Studio 1 were more Cleo props - lengths of plastic tubing, six-foot-high 'electronic equipment racks' apparently covered in cooling fins which showed how convincing a stack of ribbed plastic storage boxes and a couple of perforated plastic trays could be, when cunningly assembled and sprayed with several shades of silver paint; some black-painted CO2 fire extinguishers simply but effectively mocked up as blast weapons with a couple of bits of moulded plastic and a few decal transfers; and some thick grey tube-shaped weapons (if weapons they were) made from plastic drainage pipe with very convincing handgrips that turned out to be home computer joysticks (complete, of course, with firing buttons).
Out the back of Studio One were some smaller storage rooms - one full of foam rocks; one half full of riveted metal barrels (like the one in Shark Island Prison) all moulded from thin plastic but looking so convincing you couldn't tell they were'nt metal till you tapped them; a room half full of sacks of sawdust; a room of coffins; and a room full of foam tree trunks, some with arrows stuck in them, and a four-foot-square cairn of 'rocks' with a sign on the front that said "Camp Wannachuck".
The rock room
The coffin room
and the tree room
- plus a few rocks and Camp Wannachuck
Viewing it all was interesting, fascinating even, but also rather sad. Without a staff to give it life, or a show in production to give it purpose, it seemed to lose some of its meaning. It felt like a cross between a museum, a second-hand shop and a junkyard. And, I couldn't help noticing, many of the props that seemed so shiny and fascinating when skilfully lit and briefly glimpsed on a TV screen, seem rather dusty and shabby in real life. But maybe it was just my mood, balancing fond memory of fantasy episodes against the knowledge that no more will be made. At least, not in these premises and not with these props.
And, after all, it was the business of Pacific Renaissance and Renaissance Pictures to turn rather banal and everyday items into fantasy and magic.
Day One - Friday 4th May
Now, the first day of the auction - this was confined to the front of the building, Studios 2 and 4 and the front propstore. There were two auctioneers operating simultaneously, one starting in Studio 4 and moving on to Studio 2, and the other one working in the propstore on the left of Studio 2. Fortunately, whether by design or luck, the items in the different areas appealed to diffferent groups of buyers.
Studio Four seemed to be mainly frequented by ordinary non-fan antique dealers, which is doubtless why the special auction of Ares' (metal) sword started so slowly. I even bid myself when it seemed to stall at $700; when it eventually went for $2100, a woman turned to me and said "That seems awfully expensive for a sword". I managed not to laugh. The buyer was a very attractive woman, who appeared very hesitant about going to her final bid - I assume she just didn't know (and nor did the other bidders in the room) what such swords fetch overseas. She was interviewed briefly on the TV news that evening and seemed rather bemused by the attention. Most of the items in that room were such as would appeal to antique dealers or collectors but not Xenafans or Xena collectors, anyway. The chakram went for $2000, and a pair of Xena gauntlets for $1450.
Studio Two contained items that had, I think, probably been selected by Turners as appealing to their usual clientele of furniture dealers. There were some possibly fannish items there, but only for fans who wanted large pieces of furniture. And no small 'props'.
The second auctioneer, in the propstore, started with the candelabra, market carts and so on, probably mostly appealing to ordinary second-hand dealers (non-antique). After that, he came to the more distinctive show 'props' and a different group of people started bidding - evidently fans. Bids for lots of apparently undistinguished items of little ordinary value ranged from fifty dollars to a few hundred; doubtless to the puzzlement of the auctioneers who had no idea of their significance. No outrageous bids, though a bucket of assorted fine-finished swords (not identifiably related to any Xena name characters, though) went for nearly $3000.
Day Two - Saturday 5th May
This was all the areas not covered in Day One. Early on, the other two metal swords and a second pair of gauntlets were auctioned; word of the value of swords must have filtered in via the Internet, because after a slow start (yours faithfully hopefully bid $500!) one sword fetched $3600 and the other, with a rather ugly hilt (Hephaistos. apparently) went for $2600. The gauntlets went for $1150.
These were special items, bid out of sequence; the very next item was a padded leather 'torture rack' which (amidst some laughter) fetched $50.
I didn't see much of the following bidding, as I was out at the gate 'interviewing' the Roman guards, who are familiar faces on Xena. I got back in time for the weapons; the first lot was a very big box (out of a dozen very big boxes) full of mixed spears, shields and prop swords; the auctioneer, obviously over-impressed by the price for the metal swords earlier, and having no idea of relative values of steel vs plastic, tried to start the bidding at $3000. As it turned out, though I'd expected them to go for a few hundred each, they did go for well upwards of $1000 a box. I managed to buy a much smaller box of assorted swords for a little less but much more than I'd intended to spend. Really, the auctioneers would have pleased a very large number of people in the audience, and quite probably fetched more, if they'd auctioned swords individually; but auctioneers are just interested in shifting stuff.
I didn't really follow the progress of the rest of the auction; I'd well overdone my budget and was suffering my usual post-bidding paranoia. So I didn't see the Roman and Amazon banners go, or the carpets, or the rope store (who buys ropes? Rope dealers?) or even the giants and huge pots. I hung around for an hour or so, while the crowd diminished after the main weapons were auctioned and the second auctioneer in the Canopy Area worked his way out of the door down the entrance way. By this time buyers were starting to empty out their lots, and my back was beginning to ache from standing around. It was then that I finally noticed the wall coverings and realised Studio One really had been a working studio. And it struck me what a big industry this must have been, and how sad to see it all coming to an end. I collected my box of swords on a supermarket trolley and gently left.

Except where otherwise noted, this work is licensed under a
Creative Commons Attribution-ShareAlike 4.0 International License.
Exceptions are:
The 'New Xenaland' name and logos



The Wardrobe auction
Auction items
Filming Locations
Home
NewXenaland Main Page
Any comments or questions, email: