turners v2
| | | |
| --- | --- | --- |
| | | |
| | New Xenaland | |
| | Xena / Hercules Auction Items | |

Auction catalogue - day 1
There have been many items auctioned on Ebay and elsewhere, purporting to be from the Auckland props auction, and there have been questions about the authenticity of some. Most such items seem to be genuine, but a few look spurious. Here's a few notes on the Auckland auction to help in judging the authenticity of what's on offer.
First, 'Certificates of Authenticity' - I don't know what one looks like, but so far as I know neither Pacific Renaissance nor Turners were offering any. I was never offered one.
What can a seller of a 'Auckland' item reasonably be expected to offer as authentication? Basically, just a copy of the auction receipt in their name, with an item number that matches the catalogue, and the description on the receipt should reasonably match the items offered. Bear in mind that whole shelves of items were sold as one 'lot' in the props auction, and whole racks as one 'lot' in the costumes auction, and Turners' descriptions were often vague and frequently inaccurate. In compiling the list of costumes of 'name' characters, Turners obviously had expert help from Xenastaff, since their descriptions for those items were better than most.
The auction receipts are not very informative (see sample below). Nowhere do they even say 'Xena'! The important things to note on a receipt are the auction number and the dates - 3475 and 04/05/2001 to 06/05/2001 for the props auction, 3484 and 16 or 17/05/2001 for the costumes auction. (Note English style dates, day first). That identifies it as the Xena auction.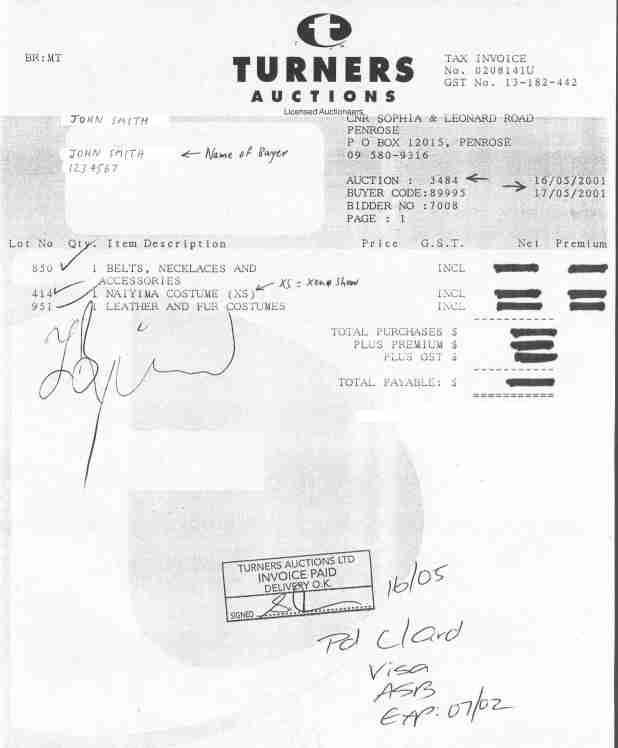 Sample auction receipt - names have been changed to protect the guilty
Note the auction number - 3475 = props auction, 3484 = costume auction
and the dates - 04/05 to 06/05 for props, 16/05 to 17/05 for costumes
The Penrose address is Turners' head office, not the auction site
For costumes only, XS = Xena show, HS = Herc, YHS = Young Herc, CS = Cleo, JS = Jack
A seller may be able to offer a photocopy of the auction catalogue front page and the page with the item listed, but catalogues seemed to be optional, not all Auckland buyers will have got one. However, copies of the on-line auction catalogues are downloadable in Zip format below if you want to check a listing.
Click here to download Auction Day 1 & 2 Catalogue (Props)
Click here to download Auction Day 3 Catalogue (Wardrobe)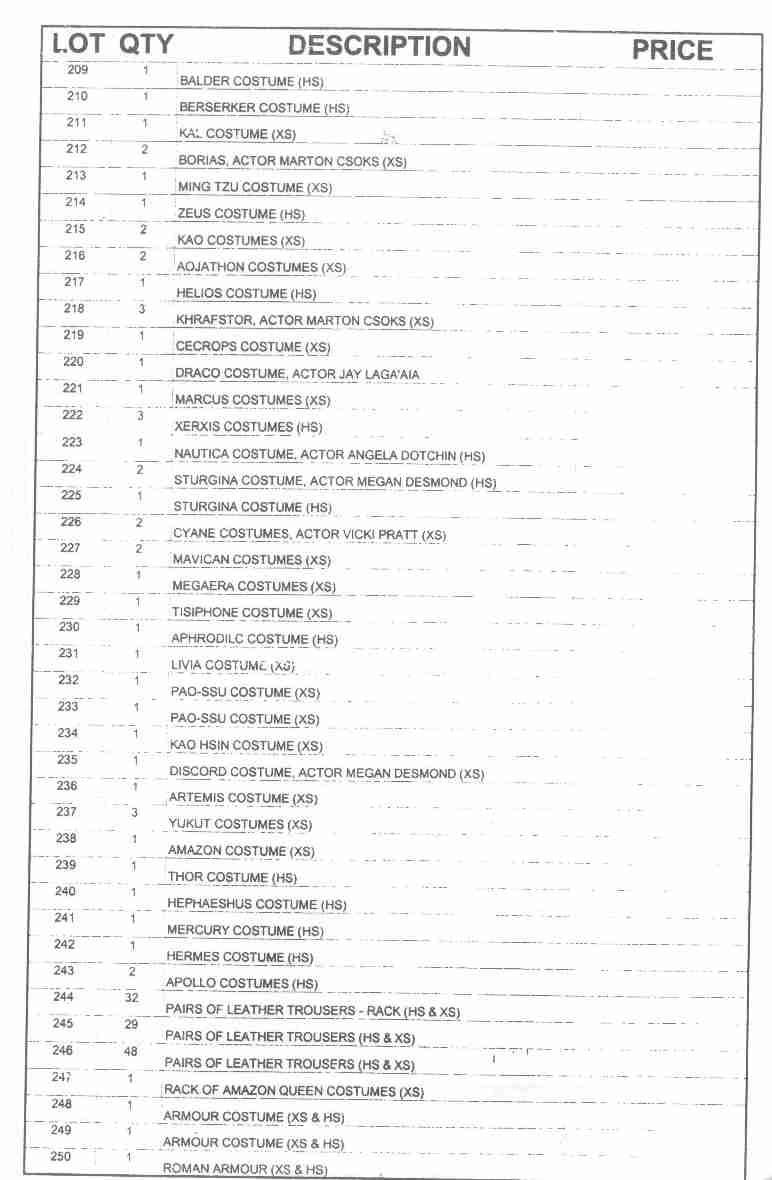 Half a page from the auction catalogue
Note lot numbers were reused in the second auction
Regarding costumes, most named-character costumes were kept carefully by Xenastaff on wire coathangers on racks. Main characters and their doubles (if any) would each have their own costume, labelled with the character, and the actor's name, or the name of the double. Minor items of costume would be pinned to cotton 'sleeves' that fitted over the hangers. (See illustration). Main characters and their doubles were all kept next to each other on the racks and commonly auctioned as one lot. Thus item 237, '3 Yukut (!) Costumes (XS)' consisted of three complete costumes. The main actor's costume would be labelled 'Yakut Kate Elliott' and the doubles would be labelled 'Yakut Stunt Double Jane Smith' and 'Yakut Body Double Maggie Jones'. (I made up the doubles' names, apologies to the real doubles, since I didn't note what their names were). These names would be repeated usually on each item of clothing.
A complete costume from Amazon High
This one is a double's costume so carries the
name of the double, not the actor
Label reads "Olan body double Trisha"
The same costume in its entirety
Each main item carries a name tag
Note the cotton 'sleeve' to which small items are pinned
Jewellery, weapons and footwear were generally kept separately and so were not sold with the costumes, unfortunately.
The information above is accurate to the best of my knowledge and observation. If there are any inaccuracies please let me know.

Except where otherwise noted, this work is licensed under a
Creative Commons Attribution-ShareAlike 4.0 International License.
Exceptions are:
The 'New Xenaland' name and 'Xena' logos
Turners auction catalogue



The Props auction




The Wardrobe auction




Home





NewXenaland Main Page





Any comments or questions, email: